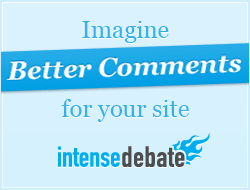 For a while now I've been wanting to figure out a way to enhance my blog even more. I've been really wanting to be able comment on other people's comments following each post. As it is now, I can comment, but my comments do not prompt an email to other commenters (like Facebook does). If people ask a question, I have to email them or post on their Facebook wall to answer. That's not how technology should work! I want to encourage more comments and engage in conversations through my blog too!
(All of this information may not be "blog worthy," but I decided it include it for my fellow blogger friends who might want to add this feature to their blog too!)
After some research, I've found a couple of ways to accomplish this. The two most popular third party websites that have the capability to introduce a new comment feed are
Disqus
and
Intense Debate
. I couldn't really choose between the two because they both offer comment threading, reply by email, comment moderation, and many ways for readers to comment (including Facebook, Twitter, Google, Open ID, even as a guest and more!) – all the things I wanted. I first tried Disqus because it looked cleaner, but then all of the existing comments from previous posts were removed from my blog. After doing a little more research on Disqus itself, I found that I can't have those comments show up. They still exist in my blogger profile, but they don't show up on each post. I also found that in general bloggers are more satisfied with Disqus and readers (and therefore commenters) are more satisfied with Intense Debate. To me it's all the same, so just for you guys, I switched to Intense Debate. I mean, it had all the things I was looking for, and got really good reviews when I researched more intensely. The new commenting system will only work with new posts starting today. The older posts will have the basic blogger comments listed, and will not prompt emails for additional comments.
A few aspects that I like about Intense Debate, are that the commenter (you!) can choose to get email notifications for your comments when I or other people comment on them, or on the post. You can also "like" the comments, similar to Facebook :)
*You must be in each post (not just viewing the blog site) in order to comment.
So, let's give it a try, shall we? Let's see if it works! What do you think of the new commenting system? Let me know if there are any commenting issues and I'll try to troubleshoot them.